As an organisation operating within the international trading market, our activities have a direct impact on many communities across the globe. The Purple Circle helps keep us focussed to ensure we are operating responsibly and sustainably and to make a positive impact on our world through ethical practices, quality assurance, environmental considerations and social accountability.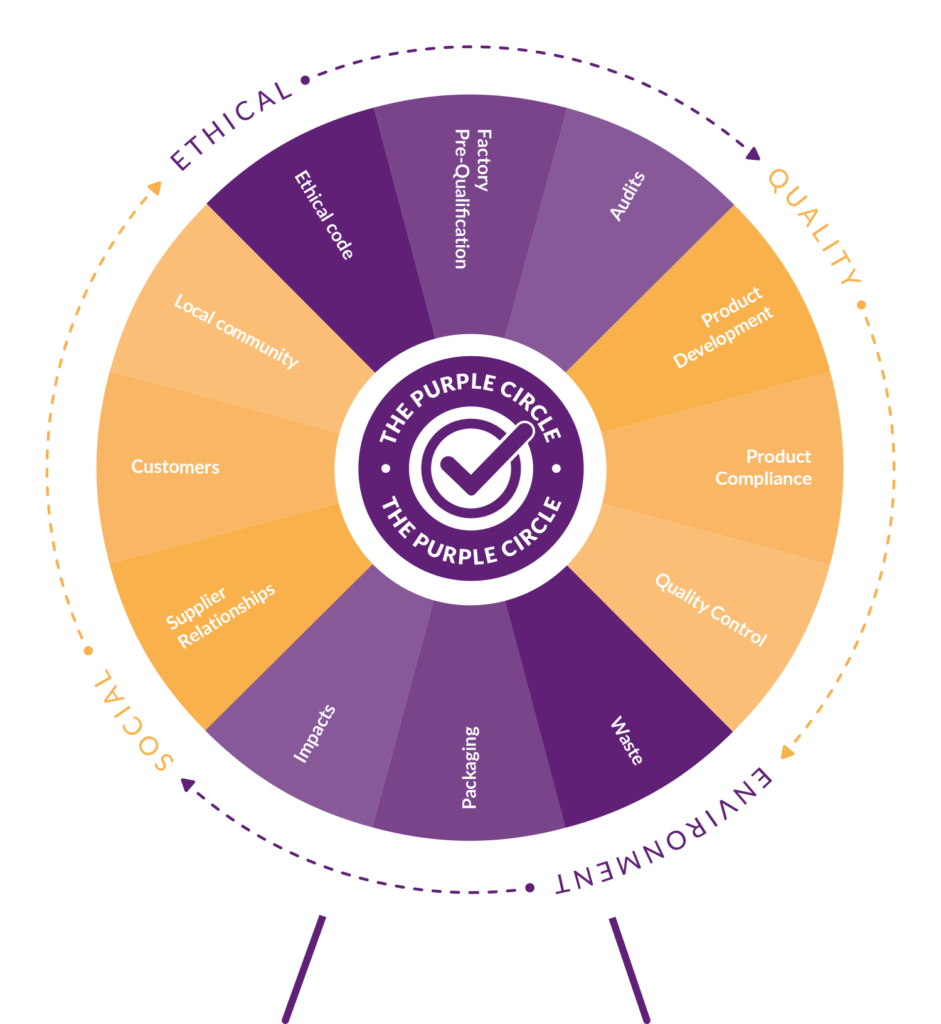 Product Safety & Compliance
We have partnered with Independent Quality Solutions Limited (IQS), specialising in product compliance and technical support.  IQS help us to understand the legislative requirements that apply to our products.  This, along with our regular factory audits, gives our clients absolute peace of mind.  Our comprehensive Toy Safety Assessment, product testing, record keeping and compliance systems ensure our products meet the obligations and requirements of the relevant Directives and Standards.  
Our values are aligned with the ETI Base Code. We only work with suppliers who support these key human rights principles.
Factory Pre-Qualification
The supplier onboarding strategy ensures all new suppliers are assessed in line with our trading values and ethical practices.
We work with 3rd party organisations to undertake Ethical, Quality and Environmental Audits using both internationally recognised schemes such as SEDEX and our own specific requirements.
In-house testing and feedback from client product trials ensures high quality products together with safety and risk assessments throughout the product design stage.
Partnering with QIMA for product testing and also members of The British Standards Institution (BSi), we ensure all our products are fully compliant with the latest UK and EU legislation.
DUPRO and Pre-shipment inspections are undertaken before despatch from our manufacturing sites and are quality checked upon delivery into our warehouse. Products requiring additional customisation at our UK printing facility are 100% checked before despatch.
We recycle trade waste at local facilities with a 0% to landfill target. We also comply with the UK WEEE regulations.
We have worked hard to reduce unnecessary packaging in our products and have switched to card and paper wherever possible. We monitor levels in accordance with Waste Packaging Regulations 1997 and remain well below the 50T threshold.
All products comply with Reach Regulation (EC) No 1907/2006 and we are taking steps to reduce our carbon footprint by incorporating raw materials that use reduced carbon emissions in their manufacturing processes, such as wheat fibre.
Promoting a strategy of effective and sustainable supply chain management, responsible sourcing and continuous improvement.
Listening to and working closely with our client's buying and technical teams to ensure all compliance and quality needs are met.
We are proud to support a number of local charities and schools within our local community.
More can be found about our safety and compliance in the documentation below.